Engineering
Pharmaceutical production line involves a variety of processes from medicine manufacturing to packaging. Ease Limited does not only provide customers what they need but also with some added values — higher operability and easier maintenance. In addition, our validation service (verification and documentation) which strictly observes current regulation ensures that the design, installation, operation and function of the delivered unit or system fulfills the required specification and intended purpose of use.
Advantage of Ease's Engineering
Wide knowledge and experience of pharmaceutical engineering. Especially, high level of expertise in PACKAGING
One-stop service for below 3 essential elements for pharmaceutical engineering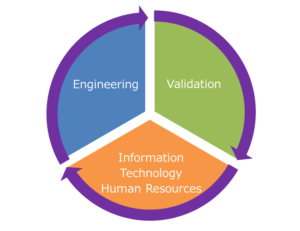 Engineering
We supply production line with high and consistent quality, not only by fulfilling mechanical requirement but also by proposing the best solution through a close consultation of packaging requirement specifications and characteristics of selected machines.
New Installation
We supply a wide range of products from stand-alone single unit to custom-made whole packaging lines. We do not just supply physical product as many suppliers do, but are committed to share with customers many ideas and tips learnt from our experience, such as better packaging specification and forward-looking "line versatility". Consult us also for the best packaging material. We will find the optimum solution, considering e,g. a carton design requirement (shape, size, flap length, position of barcode, etc) and characteristics of cartoning machine.
Line security is another aspect we focus on. Integrated concept of "positive fail safe" and "rejection" surely enhances reliability and security of your production line. That is the establishment of system which NEVER LETS DEFECTIVE PRODUCT GO.
Relocation/Modification
Relocation of single unit or complete production/packaging lines from Site A to B
Line modification on the occasion of relocation
e.g. Division of a current production line into two after relocation
(Pre-Relocation Operational check Relocation/Modification Operation check or Validation)
We are also experienced in relocation of entire production site. Some customers find improvement in operation of relocated machines.
Line modification due to an increase of product type to be manufactured
Inspection System
As part of production line engineering, we provide various barcode/text inspection systems and visual inspection systems. Contact us for details.
Support for Entering the Market
Contact us if you are a system supplier who wish to enter pharmaceutical industry. We provide basic advice and suggestions (what is indispensable, what should be improved, etc) as well as assistance in validation documents.
Validation
We support validation work by creating a series of documents from the highest-level Validation Master Plan to the downstream documents like URS, system assessment, DQ, IQ, OQ, and CSV. (All documents will be created with strict consideration to the customer's own corporate rule in quality control, CSV, system assessment, etc.)
Support in GMP qualification of machines and systems (Execution and documentation support in DQ, IQ, OQ, CSV, etc) are also available.
Resource of Information, Technology and Human
Our forward-looking system and idea are always based on the current regulations and trends in the concerned industries such as pharmaceutical, logistics and packaging.
Observation of Country-specific Information and Regulations
Our engineering proposal always reflects the latest worldwide GMP guidelines like PIC/S and EU, and trends in the industries involved.
(e.g. Country-specific Track & Trace compliant packaging systems)
Translation
We translate various documents, which includes highly technical and official terms, into English and Japanese.
e.g. Regulation, guideline, machine specification, brochure, operation manual and validation documents, etc.
Staffing Service
We dispatch appropriate temporary staffs to various projects which involve validation, calibration and engineering, etc.
Licenses
Construction Business License 「Tokyo Metropolitan Governor (HAN-1) No. 142165」
Easel Limited is licensed to conduct installation of manufacturing systems, machines and equipment etc.
General Worker Dispatching Undertakings License No. HA13-304694
Ease Limited has a long experience of dispatching professional staffs to construction sites or engineering companies for various pharmaceutical projects (design, validation and management, etc).